I absolutely love to look at Disney Fine Art. I liken it to looking at concept drawings for an architecture project, building expansion, etc. The artist takes the concept and paints a beautiful picture of what your feelings are when you experience the scene--not necessarily what your eyes actually see.

That's how I feel about Disney Fine Art. All that I love about Disney and the stories that have been told are represented in these beautiful works of art. Here are a few of my favorites.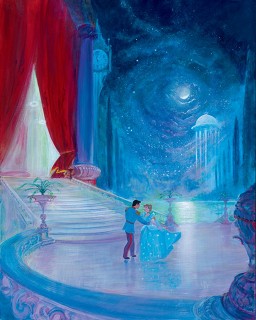 So This Is Love by Harrison Ellenshaw
Waiting for Peter Pan by Harrison Ellenshaw
The Glass Castle by Peter and Harrison Ellenshaw

The Knighting of Pooh by Peter and Harrison Ellenshaw
Moments Away by Rodel Gonzales

Off to Home We Go by Peter Ellenshaw
Practically Perfect by Peter Ellenshaw

The Mystical Kingdom of the Beast by Peter Ellenshaw
I could look at these all day!