Remember how I've talked about Kurt and I going to New York City this fall?

Well, something has happened.

You see, I have a long-standing love affair with a certain place.

My earliest memories are there:



And my family has created memories there for years.



Kurt and I took a Babymoon there that was one of the most incredible, happy trips we've ever experienced.


We even introduced Evy to this special place, well, very early.



And we have decided that we must go back. That's right; this fall, we're going to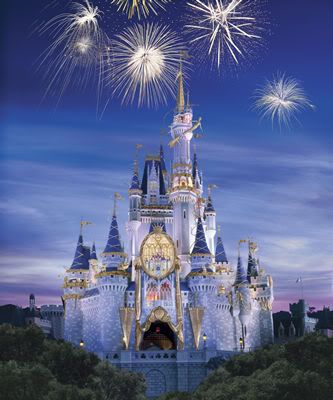 We spent a lot of time talking through everything and making lists of pros and cons. We have decided that we are going to go to Disney in October (like we did in 2008 when I was pregnant), and Evy will stay with my parents. She's still too young to enjoy the attractions and characters (she would be terrified, actually). Some people would think that Kurt and I are crazy for using our adult vacation time for Disney World. However, I know how to do Disney, and it's stress-free and nothing but pure happiness. It's our idea of a perfect vacation. So, we're going! We will take Evy as soon as she's old enough to appreciate it and have FUN.

We are aiming to go to New York City in the spring of 2011. We have already budgeted to save for these trips. I don't feel the need to justify the trips we take, but I can imagine some people might think, "Wow, tough life with all of this traveling." The thing is, we live very modestly day to day. I don't buy designer brands, we rarely eat out at restaurants, and I don't ever go shopping just to shop. This way of life won't change much, even after we're living in Missouri and Kurt is working as a physician full time. We would rather spend our money on giving to others, paying off debt, and traveling with the "extra" money we save. Also, I will have a set amount of money per month that's "mine," and I'm setting aside half of it to save for the trip. So we plan accordingly for these trips and work for them! That's the honest truth!

Planning a Disney trip just feels right. Since we're exactly at the 6 month mark until our trip, I have started making dining reservations (as anyone who reads this blog knows, I plan meals before I do anything else!). Having just gotten back from Boston, I needed a breather from planning an urban trip. They are a BLAST, but more work (at least with the way we like to travel--maxing out our time and seeing/eating a LOT!). Disney is so easy for me. I feel so blessed that we will have this opportunity. We don't take it for granted! This trip will celebrate the end of Kurt's residency--I can't believe I'm even typing that!

I was so excited to make the announcement of our change in plans. Going to Disney is like going home. :)